This article originally appeared in the Jul/Aug issue of Egear



RBH AC Speaker System Big Sound
by Mark Fleischmann
Introduction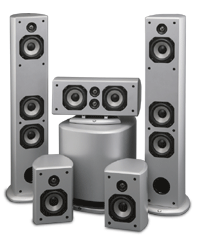 Surround systems anchored by floor standing speakers in the front left and right positions combine the strengths of 5.1-channel sound with the old-fashioned virtues of stereo. Pairing a couple of big speakers with the subwoofer endows bass lines and effects with a three-point wallop. But the price of this optimum combination of size and flexibility can run high, and if you're on a tight budget, you might end up with speakers that don't look or sound very good. That's why it was such a pleasure to pull the cartons off a pair of RBH's AC-5Ts; the speakers' curved enclosures immediately announced that they were something special.
Nearly 40 inches tall, the AC-5T has a three-way design with four drivers. These include a 1-inch silk dome tweeter and a trio of 5.25-inch polypropylene mid/woofer drivers. One of the latter functions as a midrange driver (3,500 to 200 Hz), while the other two serve as woofers (below 200 Hz). You can buy the AC-ST in a surround system with other members of the RBH AC Series, including a horizontal center and a pair of smaller rear-surrounds. All use tweeters and woofers of the same size, which provide for a better-focused sound-field. Oh, and there's a subwoofer, of course.
The AC-525 center speaker uses the fairly unusual arrangement of two tweeters flanked by two woofers, and it comes with a rocking pedestal that allows you to adjust its angle of fire. One tweeter and woofer adorn the baffle of the bookshelf-sized AC-51 rear-surround. The A-1OS sub provides a down firing l0-inch woofer and 150-watt amp in a rounded cabinet that visually echoes the other speakers. Slim and sleek, the speakers offer curves in a very small footprint, so they don't appear to hog the room the way square-cornered speakers so often do.
The curves are more than cosmetic. Unlike conventional speaker boxes, RBH's curved enclosures provide the acoustic benefit of preventing standing waves from bouncing between parallel surfaces. Sound still bounces around inside the speakers, but it does so in a more complex way, with a less dominant resonant frequency.
The enclosures are a complex composite of medium-density fiberboard, fiberglass and other materials, with a smooth matte finish that's curiously pleasing to the touch.
Connectivity-wise, RBH wins extra points for its all-metal binding posts. Sensitivity ratings range from 89 dB for the center, to 86 dB for the rear-surrounds, with power handling of 50 to 120 watts, and nominal impedance at 6 ohms. The cheapest and lowest-powered receivers on the market may not mesh well with the AC Series, but anything above the $500 mark should work fine. By the way, fabric tweeters tend to be a bit on the gentle side, so feel free to mate these speakers with a highly detailed receiver (think Onkyo or Yamaha). With my fairly neutral Rotel RSX1065, the RBHs seemed a little reticent on first listen, so I pulled off the grilles and left them off. Even without grilles, the speakers maintained their look of subdued elegance.
I applied my preferred 80-Hz sub crossover to the center and rear-surround speakers. However, I ran the front left/right speakers full-range ("large") to give the sub's bass response some reinforcement. This division of labor gave the system some extra bass definition, especially when movie soundtracks waxed explosive. It also provided more even mid-bass response when I walked around the room.
My main signal source was an Integra DPS-8.3 combi player, which adroitly juggles DVD-Video, DVD-Audio and SACD formats. This set the stage for a round of high-res audio listening.
The first thing I wanted to try was the DVD-A version of Fragile by Yes. That record usually sounds more like the original vinyl than most DVD-As I own -- brighter and more detailed, but, with some systems, also a bit tinny. It still sounded bright on the RBHs (and therefore true to the source) but not at all abrasive. The wealth of veneery acoustic-guitar detail in the Steve Howe solo that kicks off "Roundabout" was especially satisfying.
Moving to the opposite extreme, I tried the DVD-A version of Neil Young's Harvest, and the mellow barn acoustics came through intact. RBH's l0-inch sub conveyed the thumping drum sound with a bit less slam than I experience with my usual 12-inch sub. However, the l0-inch's output was much tighter and more controlled than many larger subs, so the kick drum didn't bloat up and ruin the reflective mood of "Heart of Gold." The sub's down firing driver gave the leading edge of percussive and explosive sounds a rounded feel while filling out all the musically necessary bass pitches.
From my recently acquired cache of PentaTone SACDs of 1970s quad recordings, I selected Beethoven's Fifth Symphony as performed by Sir Colin Davis and the BBC Symphony Orchestra. I wouldn't say the string sound had the ultimate degree of refinement, but the matched tweeters and woofers did an excellent job of spreading the acoustic ambience of London's Walthamstow Town Hall evenly around the soundfield.
Most speaker systems seem to fall in love with certain recordings and pull the listener along with them. The RBHs seemed to take a fancy to One Bedroom, a deceptively light and airy avant-pop masterpiece from Chicago-based band The Sea and Cake. Nonchalant vocals floated through a delicious array of carefully crafted electronic textures. I liked the sound enough to replay the CD the following day.
Movies were also on the menu, of course, and the highlight was probably the final shoot-out scene of Blood Work, the latest Clint Eastveneer flick. Some of the gunplay occurred inside a wrecked warship, complete with front-to-back whizzing bullets and the low metallic creaking of distressed metal. Eventually, Eastveneer and his villain got back up on deck, into the great outdoors and the character of the explosions changed accordingly. The center speaker did a reasonable job of conveying intelligible dialogue, and the sub didn't make male voices excessively chesty. Any cancellation effects from the dual woofers seemed to have been masked by the identical woofers in the front left and right channels.
We reviewers tend not to talk much about the way equipment sounds with Dolby Surround soundtracks and Dolby Pro Logic decoding. But I did spend some time watching DVDs and TV programming in DPLII's cinema mode. A DVD rental of the low-budget movie Death Train, with bloodthirsty robbers and screaming tourists careening through the Mexican countryside, provided a lot of violent sound effects. The system handled them without compressing noticeably, even though the soundfield pattern of DPLII-cinema places more stress on the smaller center speaker. I should note that the AC-525 center has a higher sensitivity rating (89 dB) than the AC-5T (87 dB) or the AC-51 (86 dB), which allows it to use power more efficiently and play louder.
Here's what you can expect from these RBH AC Series speakers: a gentle top end, a good midrange, commendable control in the upper and mid-bass and good dynamics. What the system lacked was the highly resolved layering of higher-end speakers, and the take-no-prisoners thunder of larger subs.

For those qualities, you might turn to RBH's all-metal-driver MC Series speakers and externally powered subwoofers. Needless to say, they cost a lot more. If it's space you need to save, not money, consider the RBH Compact Theater 5.1 or 7.1 systems. I've spent time with both, and they happen to be excellent.
At $699 per pair for the AC-5T floor standing speakers, $249 for the AC-525 center, $299 per pair for the AC-51 bookshelf speakers and $499 for the AC-1OS sub, the system reviewed costs a total of $1,746. Replace the floor stands with a second pair of bookshelf speakers and you shave $300 off that price. Or add another pair of bookshelf speakers to produce a 7.1-channel system for $2,046. Another popular configuration might involve replacing the l0-inch sub with something larger, servo-powered and truly dangerous.
No matter which combination you choose, RBH's AC Series speakers shrewdly avoid the gross colorations and ear-shredding excesses of many similarly priced competitors. With their slim baffles and modest footprints, they also manage to sound big without looking big. And their moderate pricing will leave some budgetary room for the other vital components of home theater, including a moderately priced receiver, a progressive-scan DVD player and a high-definition video display. For many people, the RBH AC Series is the right choice.
AT A GLANCE

RBH AC Speaker System
$1,746 (AC-5T floor standing speakers; AC-525 center;
AC-51 bookshelf speakers;
AC-10s subwoofer)
www.rbhsound.com