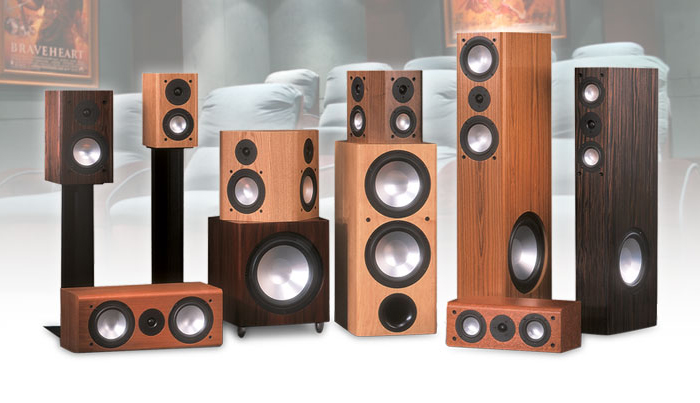 Our 25-year commitment to excellence in sonic reproduction has led us to the creation of the Signature Series. Both acoustically and visually stunning, the Signature Series embodies the best of what RBH Sound has to offer. Here's why:
Proprietary Technology: At RBH Sound we believe in the age-old adage, "If you want something done right, you must do it yourself." For this reason, we engineered our own proprietary, ultra-rigid metal cone drivers to offer unsurpassed detail and accuracy. These aluminum drivers can effortlessly handle the most raucous explosion and flawlessly reproduce the subtlest musical note.
Exceptional Quality: RBH Sound accepts nothing less than excellence and uses only the finest parts, which we rigorously and constantly test for quality and accuracy. All of the Signature Series speakers feature voice coil formers manufactured from Kapton®, an aerospace material capable of handling very high temperatures while increasing power handling and lowering distortion. Our high-quality fabric dome tweeters uses liquid cooling for increased power handling and greater sonic accuracy. RBH Sound's own commitment to excellence mirrors our commitment to our customers and the RBH Sound loudspeakers they bring home with them.
Craftsmanship: We don't like to think of ourselves as "manufacturers", but rather as "craftsmen". Anyone can "manufacture" a speaker, but it takes dedication and a passion for what you do to truly create something people will enjoy for years to come. That is why we at RBH Sound take pride in crafting our speaker cabinets from high density fiberboard, a material more rigid than standard particleboard or fiberboard. Inside each Signature Series speaker you will find heavy-duty internal bracing to ensure the cabinet's structural integrity. This method of cabinet construction allows each speaker to handle the high-stresses of today's high-powered home theater systems, without giving way to distortion.
Versatility: Although our speakers are available in a basic black finish, we don't exclusively make big black boxes. Your speakers should be a sonic marvel, as well as a visual delight. This is why we offer each of our Signature Series speakers in 30 uniquely different, and quite stunning, high-quality, real veneer finishes. Some of the finishes are so beautiful you might find yourself redecorating your living room to match your speakers!
Value: This endless pursuit of perfection comes at a price… but surprisingly enough, at a price you can afford. At RBH Sound, we believe it is possible to use only the highest quality parts in crafting high-end speakers, while still providing exceptional value.
Speakers
MODEL #
Photo
Tech Specs
Brochure
Manual
41-SE
Discontinued 05/2015










441-SE
Discontinued 05/2015









44-SE
Discontinued 05/2015









61-SE
Discontinued 05/2015









61-SE/R
Discontinued 05/2015









661-SE
Discontinued 05/2015









661-SE/R
Discontinued 05/2015









66-SE
Discontinued 05/2015









66-SE/R
Discontinued 05/2015









641-SE
Discontinued 05/2015









6100-SE
Discontinued 05/2015









6100-SE/R
Discontinued 05/2015









1044-SE
Discontinued 05/2015









1266-SE
Discontinued 05/2015









1266-SE/R
Discontinued 05/2015









8300-SE
Discontinued 05/2015









8300-SE/R
Discontinued 05/2015