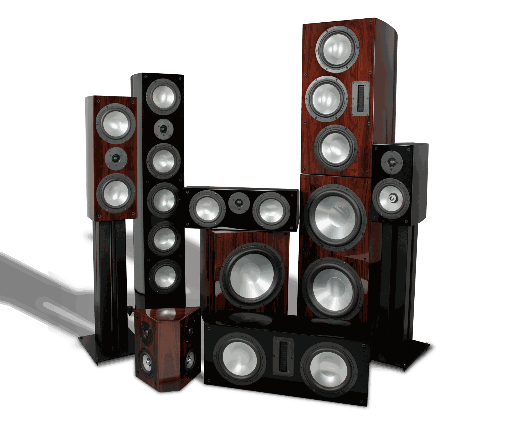 The new RBH Signature SV Series loudspeakers are the culmination of manufacturing excellence and modern styling. Over the years, the RBH Signature Series has won many awards and accolades for its outstanding performance; this new series promises to continue this tradition.
Building on a foundation of pristine sound fidelity and high performance, the RBH designers and engineers have embarked on a mission to provide a world-class finish second to none. The result of their pursuit is two spectacular piano-gloss finishes. The first being a gorgeous high-gloss black and the other a stunning high-gloss South American Rosewood. Despite the Signature SV Series' amazingly great looks, sound quality is the first and foremost priority. Incorporated into each model is RBH proprietary award-winning aluminum cone technology, and each design is optimized to perform at its absolute best. Not only are the SV Series' cabinets strong and attractive, their curved design functions to further reduce cabinet resonance, thereby increasing sound quality. Computer-optimized crossover networks featuring only the highest quality components allow the drivers to work seamlessly together to deliver a sonic presentation so real, you'll swear the artists and actors are actually there in your listening room or home theater. The new Signature SV Series combines modern technology with the tradition of handcrafted excellence that RBH Sound has become known for.
REFERENCE UPGRADE
A reference upgrade option is available for select Signature SV Series models. This option includes reference-grade components that provide even higher performance to satisfy even the most demanding audiophile. Working together with a tweaked crossover network, these high-end components extend and enhance the frequency response, resolution, and power handling of standard SV Series models. This results in an increased performance that exceeds the demands of even the most finicky listener.
Speakers

MODEL #
Photo
Tech Specs
Brochure
Manual
SV-61
Discontinued 08/2021









SV-61R
Discontinued 08/2021









SV-661
Discontinued 08/2021









SV-661R
Discontinued 08/2021









SV-661C
Discontinued 08/2021









SV-661CR
Discontinued 08/2021









SV-661W
Discontinued 12/2022









SV-661WR
Discontinued 02/2023









SV-6500
Discontinued 02/2020









SV-6500R
Discontinued 02/2020









SV-821CR
Discontinued 08/2021









SVTRS-LE
Discontinued 12/2021