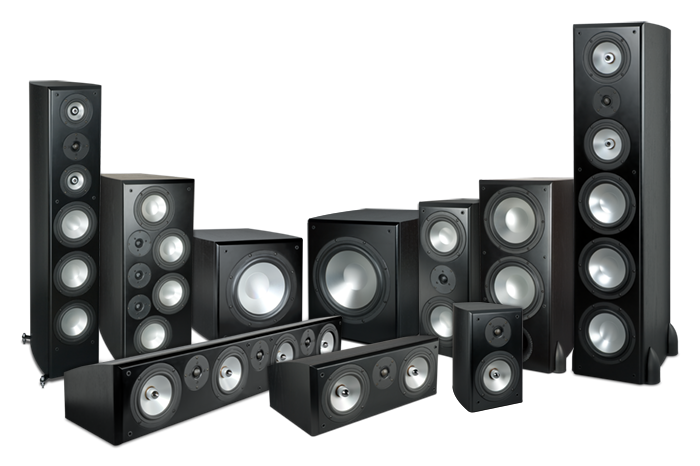 With the all-new Signature SX Series, long-standing manufacturing excellence and modern styling come together to create speakers unlike any other.
Despite the Signature SX Series great looks, sound quality is our first and foremost priority. The Signature Series has won many awards and accolades over the years for its outstanding performance, and we want this tradition to continue. To that end, we've incorporated our award-winning aluminum cone technology into each and every Signature SX Series model, and optimized each design to perform at its absolute best. Perhaps the single best attribute of the Signature SX Series may be the cabinetry; not only are the cabinets strong and attractive, the curved design functions to eliminate cabinet resonance, thereby increasing sound quality. Extensive, computer-optimized crossover networks assist the drivers to work seamlessly with the cabinets to deliver a sonic presentation so real, you'll swear the artists and actors are right there in your listening room or home theater.
REFERENCE SERIES
The Signature SX Reference Series was crafted specifically for the hard to please. Expanding on the superb performance of the SX Series, this series employs reference-grade components to satisfy even the most demanding audiophile. These high performance components work together to extend and enhance frequency response and resolution. The introduction of these reference-grade components into the SX Series curved cabinetry significantly increases the sound quality, power handling and overall performance of each speaker model in the series. The SX Reference Series is finished in a very attractive standard satin black oak or sandalwood, or 30 different custom veneer finishes.
Speakers
MODEL #
Photo
Tech Specs
Brochure
Manual
SX-44
Discontinued 12/2016









SX-44/R
Discontinued 12/2016









SX-441C
Discontinued 12/2016









SX-441C/R
Discontinued 12/2016









SX-4T
Discontinued 01/2009









SX-61
Discontinued 12/2016









SX-61/R
Discontinued 12/2016









SX-661
Discontinued 12/2016









SX-661/R
Discontinued 12/2016









SX-661C
Discontinued 12/2016









SX-661C/R
Discontinued 12/2016









SX-66
Discontinued 12/2016









SX-66/R
Discontinued 12/2016









SX-6100C
Discontinued 12/2016









SX-6100C/R
Discontinued 12/2016









SX-6300
Discontinued 12/2016









SX-6300/R
Discontinued 12/2016









SX-8300
Discontinued 02/2016









SX-8300/R
Discontinued 02/2016









SX-T1
Discontinued 12/2016









SX-T1/R
Discontinued 12/2016









SX-T2
Discontinued 12/2016









SX-T2/R
Discontinued 12/2016









SX-T3
Discontinued 12/2016









SX-T3/R
Discontinued 12/2016









Subwoofers

MODEL #
Photo
Tech Specs
Brochure
Manual
SX-88
Discontinued 12/2016









SX-10


Discontinued 12/2016











SX-10/R
Discontinued 12/2016









SX-1010N
Discontinued 02/2016









SX-1010N/R
Discontinued 02/2016









SX-1010P
Discontinued 02/2016









SX-1010P/R
Discontinued 02/2016









SX-12
Discontinued 12/2016









SX-12/R
Discontinued 12/2016









SX-1212N
Discontinued 12/2016









SX-1212N/R
Discontinued 12/2016









SX-1212P
Discontinued 12/2016









SX-1212P/R
Discontinued 12/2016