This article appeared in the February 2007 issue of
Home Theater Magazine
HTIB Upgrade
Listening outside of the box.
by Steve Guttenberg
It doesn't make sense to me, but it's a fact that most flat-panel TVs wind up being sold with plain-Jane home-theater-in-a-box systems. Matching a pricey display with a budget audio rig might, at least at first, seem like a reasonable proposition. The big screen's eye-popping picture gets all the "oohs" and "aahs," and the sound—well, it's just there. So, depending on your expectations and the sort of movies you watch, HTIB sound might be good enough. After all, such packaged receiver/DVD player/ satellite/subwoofer systems are hugely popular because they (appear to) offer tremendous value, but more perceptive buyers will eventually start to notice that their flimsy, often plastic speakers are, ahem, musically challenged and that the subwoofer booms when it should thunder.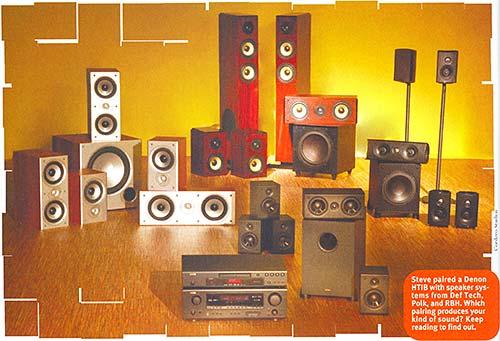 The newly awakened audiophile might be tempted to wrangle a set of decent speakers and/ or a subwoofer. But the catch is that most HTIBs—you know, the glitzy ones with 7-pound combo receiver / DVD players—aren't that accommodating because they sometimes rely on proprietary speaker and subwoofer equalization or their amplifiers are otherwise designed to be mated with specific speakers. And just because the electronics that come with an HTIB look like a standalone receiver doesn't mean they aren't proprietary.
The good news is that an increasing number of manufacturers now offer HTIBs with A/V receivers similar or identical to the models they sell ala carte, and those systems are often ripe for makeovers. For this review, I selected such an HTIB, a midpriced Denon, the DHT-487DY, because it sounded more than decent on its own- and even better hooked up to simpatico speaker systems from Definitive Technology, Polk Audio, and RBH Sound.
Denon DHT-487DV HTIB, $699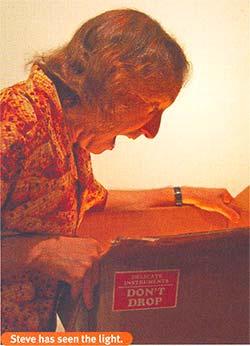 The DHT-487DV includes a Denon AVR-487 5.1-channel A/V receiver, a DVD-557 player, and a spiffy six piece speaker / subwoofer package. The 75-watt-per-channel receiver's connectivity options run the gamut: The four A/V inputs max out with provisions for three component sources; two optical and two coaxial digital inputs; and 5.1-channel analog inputs for an SACD, DVDAudio, Blu-ray, or HD DVD player. Got an iPod? Denon's iDock is fully compatible with the receiver.

The separate DVD player is no slouch. It features HDMI 480i/480p/720p/1080i output, but, since the receiver doesn't provide HDMI connectivity, I hooked the player up directly to my TV. Each of the four satellite speakers boasts a 3.5-inch woofer and a 0.75-inch soft dome tweeter; the center speaker doubles up on the woofers. The sats' MDF cabinets feel a good deal more substantial than the typical flyweight HTIB speakers; their nondescript matte-black vinyl finish is a step up on the competition's silver plastic. Standing 7 inches tall, they're a little larger than I expected, and the center is 10.5 inches wide. The 100-watt powered subwoofer with an 8-inch driver is nearly full-size it's 9.2 inches wide, 14.25 inches tall, and 17 inches deep.
The Denon DHT-487DV sounded so good, I was, at first, a little worried that the speaker packages I was to substitute wouldn't justify the added expense. The sound was equally solid with DVDs and CDs, and that's hardly a given with most HTIBs. The sub is surprisingly powerful, and the center speaker had a natural tonal balance. The Denon system sounds sweet, and, while it sacrifices some detail and resolution, it's downright phenomenal for $699. But, when you pony up another grand or more for better speakers and a sub, the Denon electronics will amaze you. And now, let's get down to business and check out the other speaker packages.
Definitive Technology ProCinema 800, $1,099
This Definitive Technology system comes with four ProMonitor 800 satellites, a ProCenter 1000 center speaker, and a ProSub 800 subwoofer. Thanks to their curved cabinets, the 8-inch-tall satellites actually seem a little smaller than the Denon's boxy speakers. They also look great.
The DefTech speakers are finished in high-gloss black or white, and their grilles cover the front and top of the cabinets. Peel off the grilles, and you'll see why: The top of the speaker houses a 4.5-inch passive radiator, a nonpowered woofer that augments the bass that the speaker's main 4.5-inch woofer generates. The woofer itself uses a newly patented design that Definitive has dubbed BDSS (Balanced Double Surround System). The "surround" is part of the woofer's suspension system, and the Definitive woofers have surrounds on their inside and outside diameters. Everybody else's woofers have them just on the outside. Definitive claims that the technique lowers distortion and improves power handling. The speaker also features a 1-inch aluminum tweeter. The 14.25-inch-wide center speaker uses the same drivers; its sides are fitted with passive radiators. The speakers' molded cabinets are a mineral-filled, polymer material that DefTech calls PolyStone; the connectors are solid metal binding posts.
The DefTech ProSub 800 subwoofer is a compact powerhouse. My tape measure confirms that it's a mere 12.7 inches high, 10.25 inches wide, and 15.75 inches deep. The little pup's front-mounted 8-inch polypropylene woofer's output is bolstered by—you guessed it—a bottom-mounted 8-inch passive radiator. A 300-watt amp supplies the motivating power. The baby sub forgoes the sats' high-gloss look for matte-black or white vinyl wraps.
When I listened to CDs in stereo, the ProMonitor 800 speakers projected a wide-open soundstage. The sound was quite detailed-much more than with the Denon speakers, that's for sure. The sub was so good, I found myself indulging my reggae fantasies. Man oh man, the bass delved deeper than I would have thought possible, and the pitch definition was excellent.
Roxy Music's Live at the Apollo DVD looked and sounded spectacular. The solo piano introduction on "A Song for Europe" was breathtaking in its clarity, and, when Bryan Ferry's deep croon joins the fray, well, the little speakers unfurled a remarkably grown-up sound.
The Flight of the Phoenix DVD has made many an HTIB cry for mercy, but the Denon/Definitive pairing never faltered. The incredibly visceral desert-plane-crash scene was a piece of cake for the mighty ProCinema 800. The system transmitted every creak and rumble of the doomed aircraft with a ferocity that belied the speakers' trim dimensions. The ProCinema 800 does everything well and would sound great in a bedroom, a den, or a small home theater.
Polk Audio Monitor Series, $1,340
The Monitor series stretches back to original Polk Audio Monitor speakers produced in the mid-1970s. Not that the new ones are retro in any way, except for their ample dimensions, but that's part of my HTIB-upgrade plan: I want to present three very different alternative options. For the Polk system, I went for a bigger size and sound. The front Monitor 40 speaker looked gigantic next to the teensy Def Tech ProMonitor 800, but it's not really all that huge—the Monitor 40 stands 15.75 inches tall. It sports dual 5.25-inch bilaminate composite woofers flanking a 1-inch fabric / polymer tweeter. I used a pair of the smaller Monitor 30s as surround speakers. These 11-inch-tall beauties use a single 5.25-inch woofer and a 1-inch tweeter. The 21.25-inch-wide CS2 center speaker can easily match the Monitor 40's bighearted sound. The center uses even larger woofers, a couple of 6.5-inch drivers straddling a 1-inch tweeter. The Monitor speakers' titanium finished front baffles and gently curved grilles are designed to look swell next to a flat-screen TV.
Audiophile design touches include Mylar capacitors in the speakers' crossover networks. Their medium density fiberboard cabinets feature 0.75-inch-thick front baffles to ensure low coloration from cabinet resonances. You can biwire or biamp the Monitor 40 and Monitor 30, and that sort of flexibility is rare for speakers in this price class. (The CS2 makes do with a single connection.)
The PSW12 subwoofer conforms to the classic cube-like shape; it's 16.3 inches high, 16 inches wide, and 17.6 inches deep. Equipped with, naturally enough, a 12-inch woofer and a 100-watt power amp, this sub can deliver subterranean extension with gusto. Thanks to the PSW12's power, the Polk system is gutsy enough to fill a moderately large home theater with ease. The Monitor speakers and PSW subs are available in cherry and black vinyl finishes.
The Polks' size advantages paid off big time with their capability for loud volume. This system is also highly articulate, so you hear stuff other speakers gloss over. Bruce Springsteen's We Shall Overcome: The SeeBer Sessions DVD, for example, came across like gangbusters. The sense of being in the room with the Boss was eerily realistic, and that had a lot to do with the warm tonality of the acoustic instruments, especially the trumpet, trombone, fiddle, and banjo. I had to remind myself that I was still listening to an HTIB-based system. It was that good.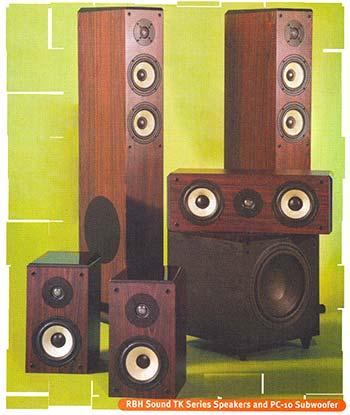 RBH Sound TK Series, $2,280
To cap my upgrade plan, I wanted to include a system built around a set of tower speakers. So, sure, this big RBH system sounded weightier than the others, but here's the kicker: When I turned down the lights, the system seemed to disappear. The sound floated free of the speakers with an excellent portrayal of depth, and the multitalented Denon receiver sounded bigger and fuller than it did with the other systems.
RBH's meticulous build quality is evident in every design detail. The TK Series speakers use a newly designed 5.25-inch woven fiberglass midrange/woofer and a 1-inch silk dome tweeter. The 20.75-inch-wide TK-515C center speaker comes with a pair of the 5.25-inch drivers and the tweeter, while the 12.75-inch-tall TK-5C speakers I used as surrounds employ a single woofer and tweeter. The TK-5CT tower is a three-way design with dual 5.25-inch drivers, a solo tweeter, and a side-mounted 8-inch woofer. This elegantly proportioned tower is 6.25 inches wide and 42.5 inches tall. It generates plenty of bass on its own, and I'd bet some buyers may elect to do without the PC-10 subwoofer I used for this review—and knock $580 off of the TK system's price.

The cabinets are constructed from hefty 0.75-inch-thick medium-density fiberboard. My rosewood-vinyl-wrapped samples looked downright luxurious, but, in this case, I'd opt for the black finish. I have just one nitpick: The TK Series speakers' all-metal binding posts didn't accept banana plugs, so I wound up using stripped bare wires to make the connections.
The PC-10 subwoofer carries over the TK's styling cues, including the speakers' high-gloss, piano-black top plates. A 100-watt amplifier powers the 10-inch woofer; the sub is 14.5 inches tall, 13 wide, and 16 deep.
Whatever reservations I might have had about mating a $2,000 speaker package with an HTIB receiver vanished the second I heard the TKs' smooth treble. It was a tad laidback, but, at the same time, it was more delicately resolved than the other speakers. CDs, starting with Prince's funked-up, party-like-it's-1999 grooves, were irresistible, thanks to the PC-10's audacious support.
When I transitioned over to DVDs with Spielberg's War of the Worlds and with the volume cranked, the TK ensemble made all the right moves. I was again amazed by the continuous wall of sound that spread upward and outward from the speakers' actual locations. When the nasty alien tripods ripped through the city streets, their menace was palpable. The RBH system's smooth sophistication wouldn't be out of place mated with a high-end plasma display.
Of course, Definitive Technology, PolkAudio, and RBH Sound all offer a vast range of models of different sizes and price ranges, and the speaker systems I've used here serve only as starting points for possible HTIB upgrades. In any case, upping the audio to match the video has to make for a better home theater ride.