This article appeared in the December 1999 issue of Home Theater Magazine
RBH Home Theater Speaker System
by Joe Hageman
The beauty of a Rolls-Royce with the raw power of a Viper.
Isn't it a rush when you have something other people covet? I remember being on a car lot once, and a guy pulled up in a brand new Dodge Viper. Everyone immediately stopped what they were doing to take a look at this guy's car—even the salesmen! Within five minutes, the hood was up on his V-10 dream machine, and the sales manager had to come out and ask the guy to please leave unless he was there to buy a car (which, of course, he wasn't). When you own something that's exotic, it makes the product all the more special.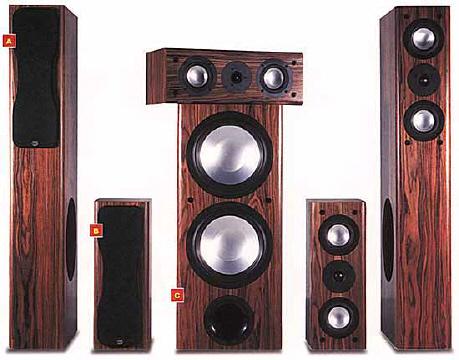 Usually a speaker system doesn't evoke these kinds of feelings, but the new system from RBH does. Although RBH has been around for a while, if you asked someone to name a speaker brand, I guarantee RBH would not be the first name to roll off their tongue. However, with its precision craftsmanship and unadulterated dynamic range, this system should make any owner want to pop the hood and show what's underneath.
The system I requested is part of their Signature series. The 1044-SE main speaker is a tower speaker that incorporates a 1-inch silk-dome tweeter sandwiched in between two 4-inch aluminum mid-woofers in a D'Appolito configuration. There's also a side-firing 10-inch aluminum woofer.
The 441-SE speaker can be used as both a center and surround. It has the exact same driver complement as the 1044-SE , sans the side-firing 10-inch woofer. As we always say here at HT, using the same driver complement throughout a system helps it to integrate beautifully, providing excellent tonal balance between all speakers.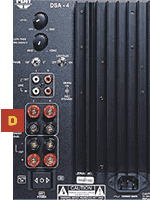 The massive 1010-SEP powered subwoofer incorporates two of the same 10-inch aluminum woofers found in the mains, powered by an internal 350-watt amplifier. On back, there are line-level inputs, a volume knob, and a crossover-adjustment knob variable between 50 and 100 hertz. All of the speakers are equipped with top-notch, gold-plated five-way binding posts.
The fit and finish of these speakers are second-to-none. The set I received came in rosewood veneer (which is gorgeous), but you can get them in just about any other finish you can conceive of (the custom finishes come at a price, of course). The rosewood veneer-finished system tops out at $5,400 for the whole lot. You can also get them in plain-old black for $4,350, but the sheer beauty and opulence of the rosewood veneer should sway you to cough up the extra dough.
Using the Krell A/V Standard pre/pro and Sunfire Cinema Grand amplifier, I started my evaluation with stereo music. Normally, I wouldn't use a subwoofer with a pair of main speakers that have side-firing 10-inch woofers in them; but, since RBH sent the awesome 1010-SEP sub, I figured, "What the heck?"
As soon as I started playing music through the RBH speakers, I was enveloped in just about the biggest soundstage I've ever heard. The music extended way beyond the plane of the speakers, and the depth of the soundstage was immense. Vocals (female vocals in particular) sounded extremely detailed and neutral and extended high into the air, I did note that the tweeter needed more break-in time because it tended to be a little bright at high volumes, but beyond that the tweeter reproduced high frequencies almost flawlessly. On the other end of the spectrum, overall output and definition from the subwoofer were outstanding. On every track I threw at it, the subwoofer belted out tons of mid- and lower bass, with the mains doing a good job of filling in the upper bass.
I usually test speakers in New York, but this system was just too big for the listening room, so I made a trip to our L.A. studio. Since our L.A. room has a projector in it, I placed the 441-SE I used as a center speaker vertically on a stand (instead of on a TV), with the tweeter and woofers perfectly in line with the tweeter and woofers in the main speakers. This arrangement gave me perfect system-matching-every speaker sounded identical to the others. When the action in DVD movies moved from speaker to speaker, there were no tonal shifts, just a seamless soundfield of mayhem.
If I had to describe how the sub sounded on music, I'd say, "Excellent!" If I had to describe its performance on DVD movies, I'd say, "Jaw dropping!" The 1010-SEP subwoofer shook me and the listening room like no other dual, 10-inch sub ever has, in my opinion. When the terrorist campground exploded on the Tomorrow Never Dies DVD, the subwoofer never distorted, even at ungodly volume levels. The pair of 441-SE s I used as surround speakers also had a ton of bass output and provided a very enveloping soundfield. Usually I don't buy into using such large surround speakers; however, with the total system-matching this system provided, it would seem a shame to substitute anything less than the 441-SE s as surrounds.
To say I really liked this speaker system would be an understatement. It has unparalleled system integration, and there is a fundamental "rightness" to the sound. If you're looking for a speaker system that looks as beautiful as it sounds (or you just want to make your friends green with envy), look no further than RBH.