This article appeared in the September/October 2001 issue of Home Theater Interiors

RBH Sound 12-SE Subwoofer a Lot of punch in a small package
by Mike McGann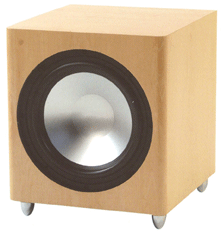 We hard-core audio types spend a lot of time gushing about tower speakers and surrounds, but in truth, the small, dumpy speaker in the corner may have a lot more to do with how good your audio system sounds. A poorly designed or built sub can make the rest of your speakers sound weak and tinny, while an exceptional sub can make mediocre speakers sound better than they are.
Although it looks unassuming, this unit offers all the grunt of more-ostentatious units, and offers great setup flexibility for those of you with more-ambitious plans for your sound system. I decided to test this unit in two environments: my office/test lab, which is the kind of room most people have in their homes, and my bass-happy dedicated theater.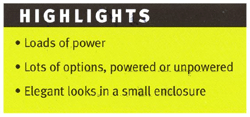 Starting out in my office, I matched the 12-SE ($999 in black. $1,299 in custom finishes) with its cousins, RBH Sound's Signature Series speakers, which share the flat black/gloss treatment that the sub features. The 12-SE features a 12-inch woofer driven by a 300-watt amp.
As I expected, the 12-SE has gain and crossover knobs, as well as a switch for phase control. Generally, I prefer a knob, as there are times when something between 0 and 180 degrees is perfect. In addition, the 12-SE has both line- and speaker-level inputs. There's also an output if you want to use the sub's crossover with more-primitive audio sources.
Using my Denon AVR-3300 receiver and the matching Signature Series speakers, I ran through my usual battery of tests, ranging from stereo to multi-channel. Not surprisingly, everything dialed in very easily, and the 12-SE offered a good combination of sheer power and tight response.
Whether I was listening to rock'n'roll, jazz, or Mozart, the 12-SE managed smooth bass and excellent punch.
Even better with movie soundtracks, the 12-SE outshone the underpowered Denon receiver forcing me to turn down the gain a bit relative to the other speakers. Gunshots held together tightly, and explosions offered solid, gut-shattering impact.
I moved the 12-SE downstairs to my home theater, where I have slightly more-powerful audio. I compared the sub and its own amp with the rest of my five-speaker system powered by a Cinepro 3k6SE3 Gold amp, which cranks out 425 watts per channel. In general, the 12-SE held its own pretty well, despite being a bit less powered. Again, response was tight and powerful. With music, bass details were excellent. The acoustic bass in Queen's "'39", for example, was deep, rich, and detailed. Movie soundtracks didn't blow me away as much. I felt like the 12-SE's 300-watt amp had trouble keeping up in terms of dynamic range.
Later, when I used it with Onkyo's TX-DS989 receiver in a 6. 1-channel setup, my theater literally rocked, as the RBH kept up effortlessly with the Onkyo's 130 Watts per channel.
While RBH Sound may not get the kudos other brands get for their subs, the 12-SE shows why it may be the best overlooked sub on the market. This sub combines excellent power and serious performance in a clean package for an excellent price.
Reprinted with permission from the September/October 2001 issue of Home Theater Interiors ® Copyright 2001, PRIMEDIA Inc. All rights reserved. For more information about reprints from Audio Video Interiors, contact Wright's Reprints at 877-652-5295