This article appeared in the Fall 2000 issue of Home Theater Interiors

by Clint Walker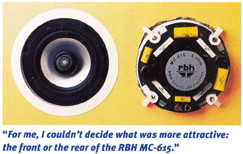 While I stand knee-deep in the flowing water of the mighty Madison River in Montana, tying a delicate fly to my tippet and gently placing another cast to a rising trout, I cannot help but hear music. In fact, it seems that everywhere I go from fly-fishing, to surfing, to sunset walks with my wife — I hear music.
Would you consider this odd? I think not. For music is the common bond all humans have. We may prefer different types, but we all have an internal rhythm that cannot be suppressed and must continually be fed. Many people use music to relax, rejoice, or become motivated. So it seems natural that we pipe music into and throughout our homes so that we can enjoy it.
When most people think of in-wall or in-ceiling speakers, they picture those used as airport paging systems or perhaps those that mutter elevator music in the dentist reception area. In general, this is the use of most in-ceiling speakers, yet it is a far cry from their usefulness and capabilities today.
Several years ago, a hi-fi nut was asked by his wife to install a set of speakers in her hobby room so that she could enjoy her music. Although the garage was filled with dozens of old speakers and parts, he procrastinated undertaking the project by making excuses. In time, she grew tired of waiting and decided one day that she would raid his stash of "spare parts" and put together a simple stereo of her own.
Using an old stereo receiver connected to a phonograph, she installed her speakers into cutouts she had made in the backsplash of her craft table. Eventually, her husband discovered what she had done. "You can't have the speakers without an enclosure!" he exclaimed. To which she replied simply, "Well, I do and it's good enough for me." Within a year, the man had sold the idea to a major speaker company and the rest as they say, is history…
For years, speaker companies turned their back on the idea that high-fidelity speakers would ever be necessary or possible for an in-wall application. What these companies didn't realize though is that, over the years, they had created connoisseurs by selling them on the philosophy of high-end hi-fi. Connoisseurs who, over time, would accept nothing less than the best, whether it was for their listening room or bathroom.
Sonance was one of the first speaker manufacturers to dedicate entire product lines to in-wall-only speakers — creating anything from 2-channel pairs to entire theater ensembles. And it wasn't long before others followed.
RBH has long been a name associated with high-end audio. In years past, they impressed listeners with their 2-channel accomplishments and in recent years have really made a name for themselves in the home theater realm. Every ensemble I have had the pleasure of auditioning has been absolutely remarkable in both sound quality and build quality while still remaining cost-effective for consumers. So I wasn't surprised when I opened up the box of RBH's MC-615 in-ceiling speakers.
The back of each speaker features an open-cavity design. This means that the speaker will use the ceiling cavity stud-bay as the enclosure. Some manufacturers are now offering enclosed in-wall speakers to relieve the effects of internal loss due to cabinet anomalies, as well as reduce unwanted resonance. I find this particularly useful for in-wall designs where speakers are typically driven a little harder (louder). I find this type of design unnecessary for in-ceiling speakers for two reasons. One, the ceiling application will either mean the speaker will use the upper floor of the room above or an attic as the speaker cavity — in either event, it's much more suitable than a wall. Two, in-ceiling speakers will not demand the imaging and accuracy of on-axis response, and any unwanted resonance will therefore be inaudible (unless you are directly below the pair, looking up — which would be rather odd).
A typical, high-impact-plastic mounting basket is covered with large high-quality caps and coils to make up the 6-decibel-per-octave crossover network. Because the crossover components are installed along the edges of the basket, it helps keep an overall low profile for the speaker and reduces the mounting depth considerably. It is important to note that RBH could have gotten away with a small, cheesy crossover board and simply hot-glued it to the woofer magnet. Instead, they opted to go with high-quality components that are both visible and audible — no shortcuts here.
The MC-615 features a single 6.5-inch aluminum-cone woofer with a coaxially-mounted 1-inch aluminum-dome omni-directional tweeter. I particularly like the use of the omni-directional tweeter as it offers the installer/listener the option of manipulating the ambience or directional response of the speaker.
The circular template allows for continuity when installing the speakers near or around recessed can-lighting. The metal-mesh grilles and plastic frame can be painted to blend the 9-inch diameter enclosures into the decor.
Once I connected up the gold-plated pressure posts with my speaker wires, I was able to begin the audition. With a rating of 80 watts, I expected these speakers to be quite capable of entertaining levels — indeed they are.
Depending on the size of cavity these are installed in, your results could be slightly different. For the most part, ceiling cavities tend to be quite roomy — especially if they utilize the attic as the enclosure. I was able to achieve respectable bass notes and tight midbass response with the RBH MC-615's without any indications of the woofer bottoming-out or slapping against the coaxial post.
The high-frequency response was exceptional and remained refined and detailed throughout each music selection. From country to classical to jazz to soft rock, these speakers played it all with concise detail and accuracy.
Overall, the RBH MC-615 in-ceiling speakers offer an amazing value to the consumer while raising the quality-standards bar for what should be expected of the next generation. Now if I only had a pair for every room in the house...
Reprinted with permission from the Fall 2000 issue of Home Theater Interiors ® Copyright 2001, PRIMEDIA Inc. All rights reserved. For more information about reprints from Audio Video Interiors, contact Wright's Reprints at 877-652-5295